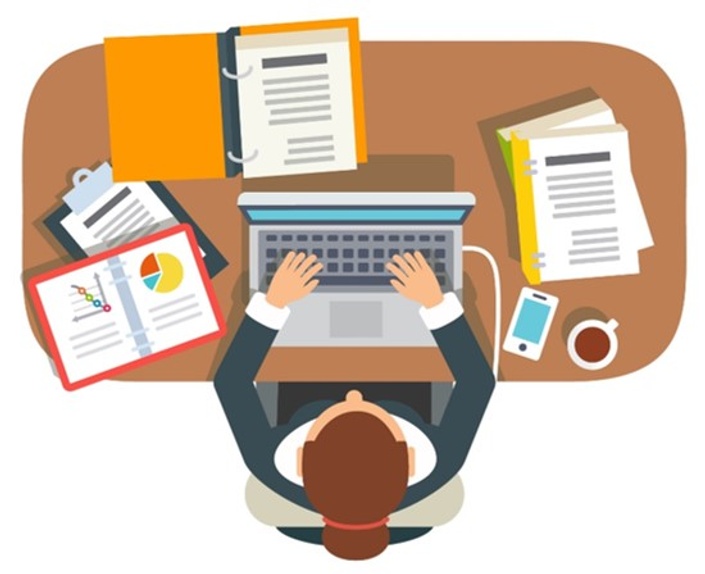 Masterclass: How to Start A Virtual Bookkeeping Business
How To Start A Profitable Bookkeeping Business - Even If You Don't Have Any Experience!
What if you were able to start your own business from home, find clients ready and willing to pay you, replace your 9-5 income, and have the time and independence to enjoy your dream life?
Here's what I'm going to show you in this 7-module Mini -Course (for FREE!)
💻 LESSON #1 - Is bookkeeping right for you?

📖 The Best Kept Secret: I will show you why bookkeeping is the best virtual business if you're looking for flexibility without sacrificing your stability, savings, or income (and exactly how it has changed my life).

📖 The Qualification Myth : I'll walk you through the qualifications you need to become a bookkeeper (and which ones you don't need!). Hint: You don't need to be a CPA, degreed-accountant, or mathematical genius!

📖 Capitalizing on Your Experiences (even if they're not bookkeeping related): How to leverage the experience you already have to create a lucrative niche (and why you should never have just one!)

💻 LESSON #2 - How much can you charge for bookkeeping services?

📖 The Easy vs. Hard Dilemma:In this lesson, I will show you why most bookkeepers are chasing the wrong clients and how you can avoid the same mistakes.

📖 Chase Margins, Not Revenue: I'll cover how to make high margins by offering catch up and ongoing bookkeeping services for EASY clients.

📖 The Freedom Equation: We will wrap up Lesson 2 by breaking down the math to replacing your income from your 9-5 with bookkeeping clients. Hint: It's not as complicated as you might think!
💻 LESSON #3 - How much does it cost to start a bookkeeping business?

📖 Don't Break The Bank: Let's jump right in to how I started my bookkeeping business for less than $200 (and the free apps I used to scale to a full client list)

📖 Margins Mean Flexibility: The key to increasing your flexibility is to properly manage your margins. Watch this short lesson to see how it's done as a bookkeeper.

📖 Budget Basics: I'll walk you through the simple budget you can use to manage your bookkeeping business (and even give you my budget template!)

💻 LESSON #4 - Do you know your Bookkeeping Basics?

📖 Learn the Lingo: I'll walk you through the easiest way to understand debits and credits and my handy acronyms that make sure you'll remember what you learn!

📖 This Or That?: Most bookkeepers are afraid of making mistakes. In today's lesson, I'll show you how to always know which accounts to use (and when to ask questions).

📖 A Bird's Eye View: We'll wrap up Lesson 4 with a brief overview of the key financial statements every small business owner needs to run their business. Learn which statements your clients will be expecting from you.

💻 LESSON #5 - QuickBooks Online Basics and Getting Certified

📖 Errors, Typos, Mistakes, Oh My! It's time to cover the most common mistakes you will probably make in QBO. Every bookkeeper makes some mistakes, but this lesson will let you know what to watch for.

📖 The Only Certification You Need: While you don't actually need a certificate to be a bookkeeper, I'll show you how to get the one certification small business owners t.h.i.n.k. you need (even if you don't have any bookkeeping experience).

📖 The Client Magnet: We'll wrap up Lesson 5 by looking at how to leverage your ProAdvisor certification to land new clients!

💻 LESSON #6 - The Bookkeeper's Sales Funnel

📖 It's Not You, It's Me: This lesson uncovers the real reason people buy (and how to use this to find more clients)

📖 Getting to Yes: How to get potential clients to say "yes" using Micro-Commitments (this is the ONE sales tactic I've used to close hundreds of clients).

📖 What's In A Funnel? No sales lesson would be complete without breaking down the bookkeeper's sales funnel.


💻 LESSON #7 - Finding your first paying client

📖 Where Are Your Prospects? This is the final day of our mini-course so it's time to get to the good stuff! This lesson will show you how to find clients online, without spending a cent on marketing

📖 What Aren't They Telling You? We already covered the basic sales process but what do you say when your prospects aren't committing? This lesson will guide you to overcome the objections that keep clients from saying "yes" to working with you.

Enroll today to start your first lesson!

This course is closed for enrollment.
Here's what some of my other students have said about my courses:
MEET TRACI
Traci saw results from 60 Day Bookkeeper during her first month! In ONE month her billable hours grew from 0 to 260. And within three months, she had hired 3 part-time employees to help meet the demand from her clients. Traci said "I have attempted to start a bookkeeping business 3 previous times with very little results. Jenny's methods got me the results."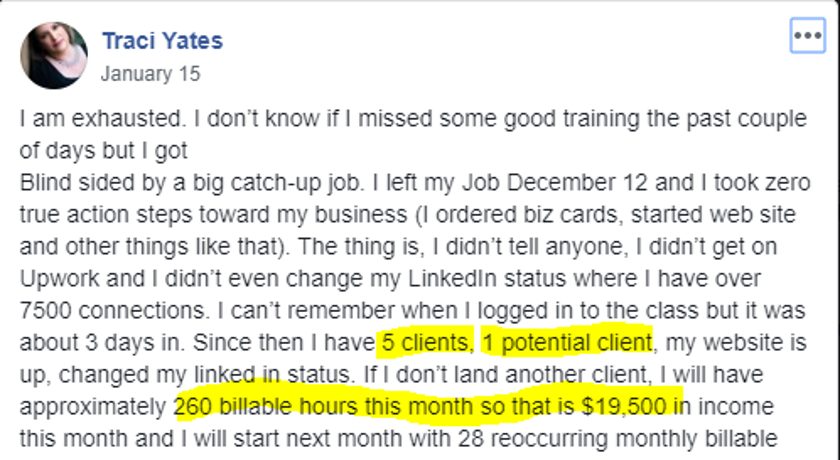 MEET MICHELLE
Michelle joined the 60 Day Bookkeeper and implemented what was taught in the course to land her first ever client in less than a month!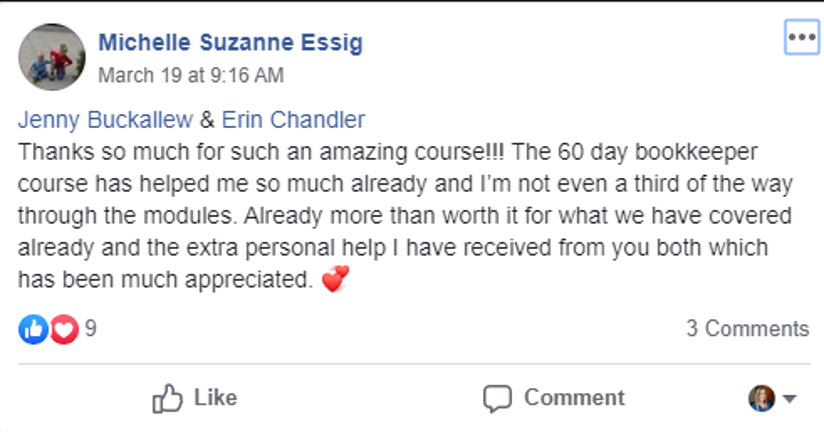 Your Instructor
Hi there!
My name is Robin Buckallew (but my friends call me Jenny). I attempted to start my first bookkeeping business back in 2014 and I didn't have a clue what I was doing. After being unable to find clients, completely lost on what technology I should be using, and feeling like an utter failure, I gave up on my business to spend the next 4 years working at 9-5 jobs. I was so miserable!
In 2018, I cracked the code to landing clients and decided to give my business another try. Within just a few months of making the decision, I was able to quit my 9-5 with my income already more than replaced with virtual bookkeeping clients.
Since then, I've closed 100s of new clients using my PS Sales Method, scaled my business well past 6-figures, grown my team to manage 80+ regular clients, and created systems to scale that anyone can implement if they follow my blueprint.
Although I'm still running my successful bookkeeping practice, I am now focused on helping other bookkeepers do the same. My goal is to help 1,000 bookkeepers make an extra $1,000 (or more) per month for 2020!
Don't forget to join my FREE Facebook group for access to even more training, resources, and support!
Course Curriculum
Overview - How To Get The Most Out Of This Course
Available in days
days after you enroll
The Online Business Opportunity
Available in days
days after you enroll
Skills You'll Need To Be A Bookkeeper
Available in days
days after you enroll
Frequently Asked Questions
When does the course start and finish?
You'll get instant access! This is a completely self-paced online course - you decide when you start and when you finish.
Does this course teach everything that's in the paid course?
Of course not! This is a mini-course covering just a tiny taste of what is in the actual 60 Day Bookkeeper course. However, some students will be able to take what they learn in this course, implement, and never need to buy the paid course. For students who want to reach their goals faster, need more in-depth training, and want a step-by-step blueprint and several templates, cheatsheets, and done-for-you elements, then the full course is made for you. This mini-course will show you my teaching style to make sure we are a good fit!
This course is closed for enrollment.
©2020 Bookkeep Anywhere, LLC | Terms & Conditions | Privacy Policy
Bookkeep Anywhere can not and does not make any guarantees about your ability to get results or earn any money with our ideas, information, tools, or strategies.
Nothing on this page, any of our websites, or any of our content or curriculum is a promise or guarantee of results or future earnings, and we do not offer any legal, medical, tax or other professional advice. Any financial numbers referenced here, or on any of our sites, are illustrative of concepts only and should not be considered average earnings, exact earnings, or promises for actual or future performance. Use caution and always consult your accountant, lawyer or professional advisor before acting on this or any information related to a lifestyle change or your business or finances. You alone are responsible and accountable for your decisions, actions and results in life, and by your registration here you agree not to attempt to hold us liable for your decisions, actions or results, at any time, under any circumstance.
This site is not a part of the Facebook website or Facebook Inc. Additionally, This site is NOT endorsed by Facebook in any way. FACEBOOK is a trademark of FACEBOOK, Inc.